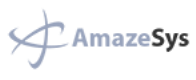 Amazesys Ltd
Custom Development
Developer Network
Travelport Tools:
Universal API, Travelport Smartpoint SDK, GWS
Primary Developer Language:
Java, C#, C++, Ruby on Rails, PHP, VB
Regions covered:
Global
Product Categories:
Agent Productivity Tools, Content, Custom Development / Consultancy, Groups, Meetings and Incentive Tools, Mobile
GDS Supported:
Travelport Galileo, Travelport Apollo, Travelport Worldspan
At Amazesys we pride ourselves in delivering innovative products which helps our customers to do better business. We help you solve your business problems effectively whilst reducing costs and increasing your ability to win and retain customers. Our agile approach means that we are able to deliver better solutions faster.

We are a technology consultancy. Our customers include airlines, intermediaries in the corporate, hospitality or leisure sectors, or specialist technology offerings and online tools, including mobile solutions.

We love a challenge and we are great at solving problems.

Get in touch!! See how we can help you to do better business.